Book: Windows Server 2008 Networking and Network Access Protection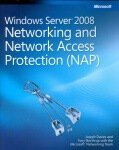 has turned up from Amazon today. This is a hefty book - at 816 pages it weighs a ton but there's plenty of detail.
It's a bit early for me to give you an idea of what the book is like, but from the brief look I've had it's worth a place in your library if you'll be dealing with Windows 2008's networking features. The section dedicated to NAP takes up just under 1/2 of the book with some clear explanations of it's components.
Here's a list of the contents so you can see for yourself what's in this book:
Part I Addressing and Packet Flow Infrastructure

IPv4
IPv6
Dynamic Host Configuration Protocol
Windows Firewall with Advanced Security
Policy-Based Quality of Service
Scalable Networking

Part II Name Resolution Infrastructure

Domain Name System
Windows Internet Name Service

Part III Network Access Infrastructure

Authentication Infrastructure
IEEE 802.11 Wireless Networks
IEEE 802.1X-Authenticated Wired Networks
Remote Access VPN Connections
Site-to-Site VPN Connections

Part IV Network Access Protection Infrastructure

Network Access Protection Overview
Preparing for Network Access Protection
IPsec Enforcement
802.1X Enforcement
VPN Enforcement
DHCP Enforcement
What was a pleasant surprise is that you get a complete PDF version on the included CD, as well as 2 more books in PDF format: Understanding IPv6 2nd Edition (complete version too) and TCP/IP Fundamentals for Microsoft Windows. Not bad for £26.
Sadly for any Australian readers, you won't be getting anywhere near that price. These best I've found is $89.95 AU from Booktopia. That price difference doesn't sound fair to me.