Roaming User Customisations in Office 2010
Note: for a more complete article on customising your Office 2010 deployment see this article: Customising Office 2010 before deployment
Good news! Office 2010 fixes the Office 2007 issue, where-by you need to resort to implementing fixes yourself, to get Quick Access Toolbar and the new customisable Ribbon to roam between computers. You'll have to remember to enable this option yourself though – create a Setup customisation with the Office Customization Tool and enable the following option:
Features – Modify user settings – Microsoft Office 2010 System – Global Options – Customize – Allow roaming of all user customisations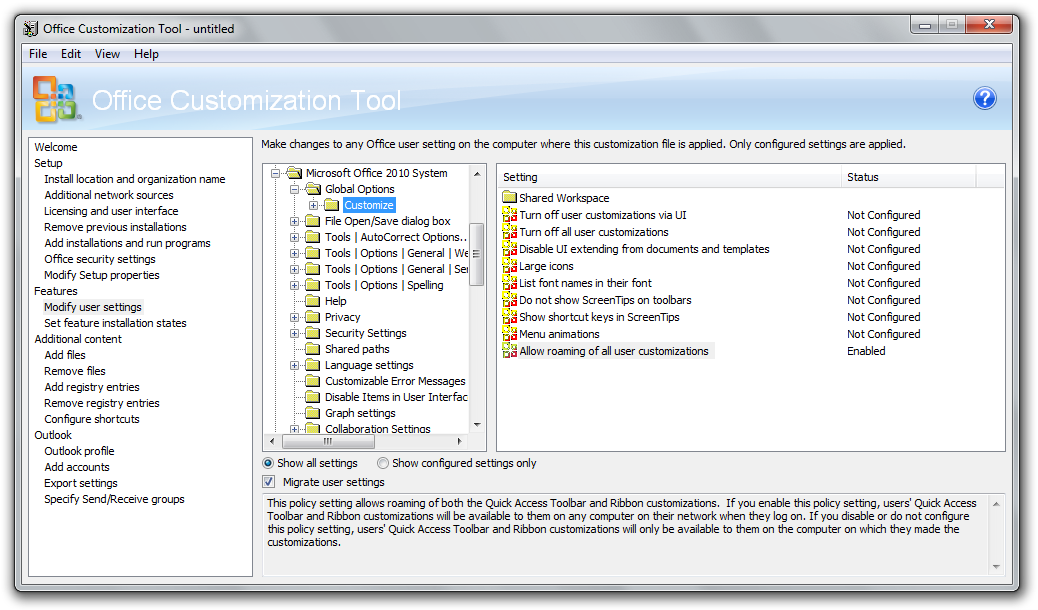 Nice and simple with no need for additional work in your user environment management tool of choice to roam those settings – happy users.
If you have already deployed Office 2010 and need to change this setting, there are a couple of ways that this can be done:
Change the Registry value that controls customisations roaming. To do that, set the following value:
Key: HKEY_CURRENT_USER\Software\Microsoft\Office\14.0\Common\Toolbars
Value: CustomUIRoaming
Type: DWORD
Data: 1
Add the policy to a GPO controlling your Office 2010 settings. Do do that enable the following policy item:
User Configuration / Policies / Administrative Templates / Microsoft Office 2010 / Global Options / Customize / Allow roaming of all user customizations
Note - Microsoft does provide a fix for Office 2007 (a hotfix and a registry change) which you can implement to make Office store Quick Access Toolbar files in the roaming portion of the profile: Quick Access Toolbar files for 2007 Office applications do not roam with your profile.