Did you know that App-V 4.5 CU1 is not beta?
I'm a little slow off the mark here (I've got my head buried in something unrelated), but I've just found out today that the App-V 4.5 Cumulative Update 1, although only available on Connect, is not actually a beta, it is the final code that you can start deploying.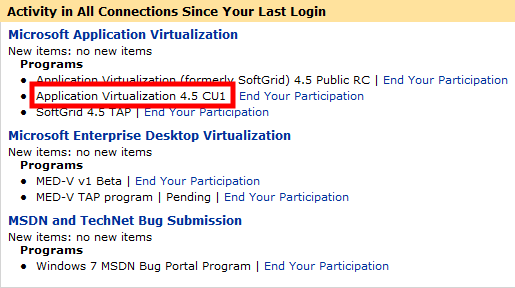 The MDOP blog covered this release last month, but I think I heard "Windows 7 support" and didn't hear much after that. My bad, I need to pay more attention.
So what is new in CU1 (4.5.1.15580)?
Support for Windows 7 Beta and Windows Server 2008 R2 Beta
Improved support for sequencing the Microsoft .NET Framework
Customer feedback and hotfix rollup (includes hotfix rollup 3 plus some other fixes)
Instant access or removal of applications assigned to end users
Get it from Connect today or wait until next month when it will be generally available to all (including the TS client which is not available on Connect).