App-V Books from Packt Publishing available with discounts in May
I've been fortunate enough to have performed technical editor duties on a couple of App-V books by Augusto Alvarez - Getting Started with Microsoft Application Virtualization 4.6 and Microsoft Application Virtualization Advanced Guide.
Packt Microsoft Carnival is a special offer by Packt Publishing during May where you can acquire several Microsoft's titles with discounts.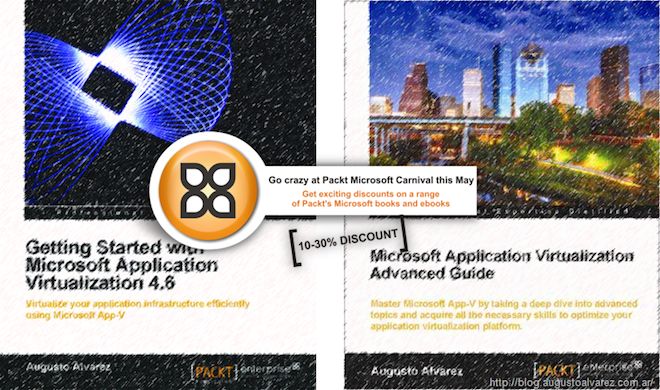 Packt's Microsoft Carnival includes a variety of titles on App-V, BizTalk, SharePoint, SQL Server, Silverlight, .NET Framework stack, XNA, Forefront, System Center and more. Packt has reduce the prices on its selected Microsoft titles by up to 30%. Some of the books include:
Augusto's two App-V books are also available in other stores, but the Packt Microsoft Carnival discount only applies in Packt Publishing site.
Augusto's original post is here: App-V Books with Packt Publishing Discounts on May